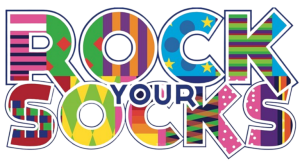 Rock Your Socks
Every year on March 21, people all around the world come together to celebrate World Down Syndrome Day by wearing brightly colored, mismatched socks. March 21 is symbolic because people with Down syndrome have 3 copies of their 21st chromosome. Socks were chosen because the karyotype of Ds chromosomes actually looks like mismatched socks!
We are excited to spread awareness on this special day by selling mismatched pairs of socks in youth and adult sizes. We want everyone in NEO to rock their socks on 3/21!
At $3 a pair, a whole school, classroom, organization, team or business can spread awareness together.
Socks will be distributed in March.
Please note: Socks must be picked up at the DSANEO office during designated pick up unless you choose the shipping option ($10):
Saturday March 16, 2024 10am-1pm
Monday March 18, 2024 10am-4pm
Tuesday March 19, 2024 10am-4pm
Wednesday March 20, 2024  10am-4pm
Questions about Rock Your Socks for World Down Syndrome Day can be directed to toni@dsaneo.org.